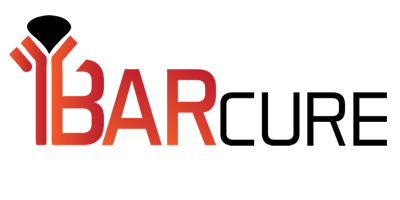 CEO: Dr. Riki Schwartz
BARcure is an innovative immuno-oncology company, engaged in developing a novel therapeutic approach for the treatment of B-cell malignancies. The Company leverages the robust research work done by Prof. Michael Pfreundschuh from Saarland University in Germany. BARcure specifically targets malignant B cells with novel immuno-therapeutic modalities killing the tumor cells, while sparing the normal B cells. BARcure was established in the FutuRx accelerator in August 2017.
SCIENTIFIC APPROCH
Targeting malignant B cell clones through their BCR antigen has been based on several neoplasm-related attributes including; stable expression of the B Cell Receptor (BCR) in different types of B-cell neoplasms, restricted use of a stereotyped IgHV repertoire in various types of B cell neoplasm, and the highly specific nature of BCR-antigen binding. This therapeutic approach was called, 'B-cell receptor Antigens for Reverse targeting' (BARs), as a reversal of the widely used therapeutic monoclonal antibody strategy where Abs bind antigens on malignant cells. Using a patient-based systemic screening approach, several highly promising predominant BAR candidates for various types of B-cell neoplasms, have been discovered, offering specific targeting of malignant B cells, superior to the general B-cell ablation of current treatments (e.g., anti -CD20, -CD19).
APPROCH STRENGTHS:
Ultimate specificity (truly B-cell cancer-specific treatment strategy)

restriction to malignant B-cell clone and its precursors
no cross-reactivity with other BCR

High target density:  50-100 thousand BCRs per B-cell
Stable target: BCR is existential for B-cell survival
Internalization of BAR/BCR complex (beneficial for antigen drug conjugate, ADC, modality)
Flexible format for final product:

Flexible size of targeting moiety
Several possible modalities: CAR-T, ADC or Bi-specific construct
INDICATION
BARcure's therapeutic platform is applicable to various B-cell neoplasms: primarily non-Hodgkin Lymphomas, NHLs. The company is currently focusing on the development of two BAR-based products, for the treatment of DLBCL and MCL.
TEAM
Riki Schwartz, PhD, CEO
Dr. Schwartz has over 15 years of leadership experience in the pharmaceutical industry in various managerial positions including the COPAXONE® Project Leader at Teva Pharmaceuticals Global R&D, a position in which she has had an overall responsibility of projects ranging from the concept stage and up to Phase III and submission, and of leading multidisciplinary global team of senior members and peer management, in a multi-cultural environment and across different professional areas. Dr. Schwartz earned her Ph.D. in Immunology at the Faculty of Medicine Tel-Aviv University.
Adi Shrabi-Yunger, PhD, Senior Scientist
Dr. Shrabi-Yunger holds a PhD from the Weizmann Institute of Science. She completed her doctorate training in the lab of Prof. Eisenbach, a leading group studying cancer immunology. She holds a B.Sc. in Biotechnology Engineering from the Ben-Gurion University.
Ofira Carmi , PhD, Senior Scientist
Dr. Carmi holds a PhD from Ben-Gurion University. She has over 7 years of experience in the Pharmaceutical industry in planning and executing biological experiments. In the last years she served as a Project manager at Valin Technologies and before that at NanoDoc Biotechnology. She holds a B.Sc. in Biotechnology from the Bar-Ilan University.
Michael Pfreundschuh, Prof. Dr. Med, Inventor and Company's advisor
Prof. Pfreundschuh is the head of the Internal Medicine Dept. Oncology, Hematology & Clin. Immunology, in Saarland University Medical School. His research focuses on the area of tumor immunology, cancer immunotherapy and etiology of B-cell neoplasia. His working group was the first to identify a molecularly defined autosomal-dominantly inherited risk factor in human hematological neoplasia and established a novel approach to identify new targets that can be specifically recognized by the tumor B cells. Over a several years of study (since 2009) his group discovered a set of key tumor-specific antigens of B-cell malignancies using this approach.  Prof. Pfreundschuh is founder and Chairman of the German Study Group for high grade Non-Hodgkin Lymphomas. For his work he received several prizes, among others, the William B. Coley Award for Excellence in Basic and Tumor Immunology.