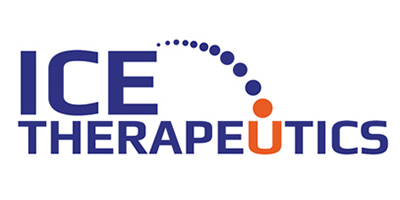 CEO: Dr. Eran Blaugrund
GENERAL
Ice Therapeutics, established in the FutuRx accelerator in December 2015, is a preclinical-stage biopharmaceutical company engaged in developing proprietary small molecules for treating neuropathic pain associated with cold intolerance. Ice is financed by a syndicate composed of Takeda Pharmaceuticals through its venture group Takeda Ventures Inc., OrbiMed Israel Partners, Johnson & Johnson Innovation – JJDC, and the Israeli Innovation Authority, and operates in the FutuRx biotech accelerator in Ness Ziona Israel. Ice's objective is to provide a first-in-class therapeutic for treating cold allodynia associated with neuropathic pain.
 SCIENTIFIC APPROACH
The primary detector of environmental cool-to-cold temperatures is the 'cold menthol' receptor known as Transient receptor potential cation channel subfamily M member 8 (TRPM8). TRPM8 is expressed in the bladder, GI tract, prostate, respiratory system and skin, and preclinical data demonstrate its involvement in cold allodynia. Proof-of-concept (POC) studies in TRPM8-deficient mice confirm a significant decrease in cold aversion. These findings suggest that TRPM8 antagonism may be an effective first-in-class therapeutic for treating neuropathic pain patients for cold allodynia/cold intolerance. A Phase 1 POC study conducted by Pfizer showed the ability of TRPM8 blockade to diminish cold sensitivity in healthy volunteers, but the compound displayed a short half-life and some side effects.
Ice-3682 ('3682', in-licensed from Janssen as JNJ-42503682) is a small-molecule TRPM8 antagonist for treating neuropathic pain. In vitro assays show low-nM affinity binding to human TRPM8 and a very good selectivity profile. 3682, which is structurally distinct from the Pfizer compound, antagonizes the effects of Icilin, a TRPM8 agonist, and attenuates cold allodynia in the rat CCI model for neuropathic pain. 3682 is orally active in rats, shows good oral bioavailability in rodent and non-rodent species, and has low potential for drug-drug interactions. Ice's near-term goal is to engage in IND-enabling toxicology studies prior to Phase 1 CTA/IND submission for a target engagement trial in healthy volunteers.
MANAGEMENT
Dr. Eran Blaugrund: CEO
PhD in Neuroscience at the Weizmann Institute of Science (WIS, Rehovot, Israel) and post-doctoral studies at Columbia University (New York USA). Twenty years of pharmaceutical experience with Teva Pharmaceuticals R&D: An active member of the team that brought Azilect to successful registration in the EU and US; set up and managed the Pharmacology department and served as VP, head of project leadership for CNS & Pain.