Epeius Pharma
Epeius pharma is a cell and gene therapy company developing next generation biological vehicles for delivery of therapeutic proteins into the central nervous system (CNS). The company established based on the research of Prof. Oded Rechavi, at Tel Aviv University and Dr. Lilach Sheiner, at the Glasgow University.
Efficient and predictable therapeutics delivery is particularly challenging in neurological diseases due to the blood-brain barrier (BBB), which tightly regulates the transport of molecules to the brain and blocks the transport of most large, charged and hydrophilic molecules. The lack of efficient CNS delivery methods limits protein replacement therapy and remains to be one of the greatest unmet needs for neurological disorders treatment.
Current status: Epeius pharma has established a new facility for handling toxoplasma gondii culturing and genome engineering and is developing the toxoplasma based drug delivery platform and its first product for treating Rett's Syndrome. Our primary indication list was recently updated to include additional five indications beyond RETT syndrome and our platform potential has been expanded beyond protein replacement therapy to Delivery of Genomic Editors proteins and additional use cases.  We are currently working on system optimization and CMC procedures for preclinical experiments that will cover biodistribution, safety and efficacy aspects of the product.
Epeius Pharma is currently seeking to raise a pre-round A to advance its development towards large animal safety studies and IND submission within 2 years.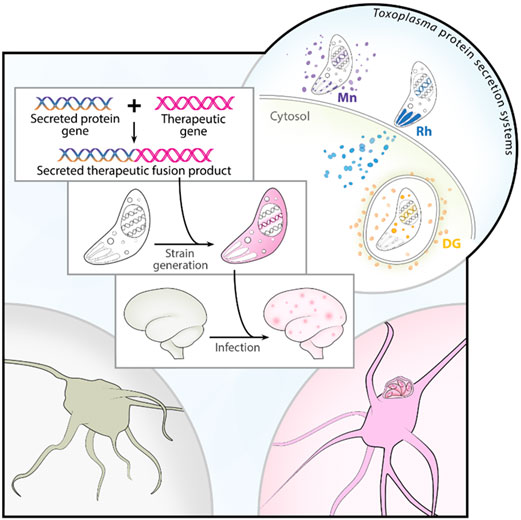 Engineering Brain Parasites for Intracellular Delivery of Therapeutic Proteins (Bracha S et al., BioRxiv, 2018)