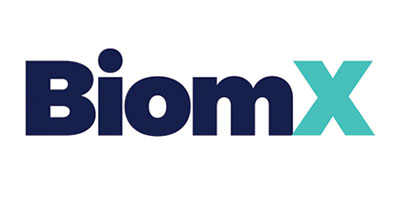 CEO: Jonathan Solomon
General
Since 2015, BiomX has been discovering and developing innovative microbiome-based therapeutics to prevent and treat cancer, IBD, and topical diseases that stem from dysbiosis. The Company's microbiome modulation platform uses cutting-edge science, research, and licensed technology created by its founders, Professor Rotem Sorek, Ph.D., and Dr. Eran Elinav, M.D./Ph.D., both of The Weizmann Institute of Science; and Professor Timothy K. Lu, M.D./Ph.D., of The Massachusetts Institute of Technology. Investors in the Company include OrbiMed Israel Incubator LP, Johnson & Johnson Development Corporation Inc., Takeda Ventures, Inc., Seventure Partners, Mirae Asset Global Investments, and SBI. More information about BiomX can be found at www.biomx.com.
Scientific Approach
The microbiome – all the bacteria that reside in and on the human body – is a new, exciting, and fast-developing field at the crossroads of pharmaceuticals and nutrition, and offers abundant opportunities for developing new medicines. The multitude of biological processes and indications affected by the microbiome make the bacteria in the human microbiome critical to health.
We apply our end-to-end platform to identify target bacteria causing microbiome dysbiosis, modulate the microbiome through adding or eradicating bacteria, and engage in pre-clinical/clinical drug development. The platform includes:
Discovery of target bacteria – Our novel target bacteria discovery approach enables the identification of target bacteria and target molecules in complex microbiomes. The approach simultaneously measures the RNA expression of hundreds of microbiome species in a single experiment.
Microbiome modulation – Address disease by adding or eradicating bacteria or phage cocktails that are native or engineered. Eradicating Bacteria requires first Phage Discovery.
Product development – Proprietary assays, processes, and analyses to address pre-clinical
and clinical needs, leading to commercialization.
Our Pipeline
We harness our technology to deliver novel microbiome-based therapeutics to alleviate conditions such as IBD, cancer, and skin disorders.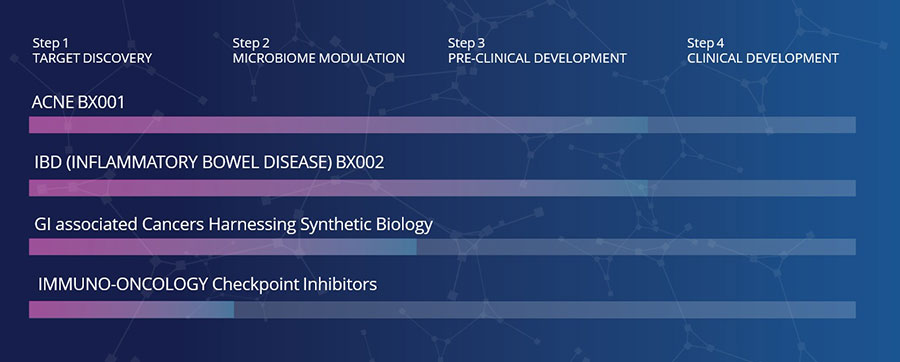 Our Team
Jonathan Solomon – CEO and Board Member
Prior to his role in Biomx, Mr. Solomon was a co-founder, president, and CEO of ProClara (formerly NeuroPhage), which is pioneering an approach to treating neurodegenerative diseases. Under his leadership, the company raised more than $100 million and launched an ongoing clinical trial related to Alzheimer's disease. Prior to that, he was selected to participate in the elite Israeli Defense Forces 'Talpiot' program, graduated as class valedictorian, and served for 10 years in a classified military unit. Mr. Solomon holds a B.Sc. magna cum laude in Physics and Mathematics from the Hebrew University, an M.Sc. summa cum laude in Electrical Engineering from Tel Aviv University, and an M.B.A. with honors from the Harvard Business School.
Dr. Naomi B. Zak, Ph.d – PRESIDENT & COO
Dr. Zak holds a Ph.D. from Harvard Medical School and completed a postdoctoral fellowship at the Weizmann Institute of Science. Dr. Zak has over 15 years of leadership experience in the biotech industry in a range of executive capacities, including: manager of regulatory affairs at Chiasma, a clinical stage company developing oral formulations for medications currently administered parenterally; and director of R&D in both IDgene, a gene discovery company, and CellCure, a clinical stage company developing human embryonic stem cell based therapies. More recently, she served as interim CEO of ProtAb and as CEO of SCTherapeutics. Dr. Zak has led company launching activities, target indication assessment, establishment of research platforms, and product development activities.
Assaf Oron – CBO
Assaf Oron has served as chief business officer since January 2017. Prior to this position, he served for over a decade at Evogene (NYSE:EVGN), an agriculture biotechnology company which utilizes a proprietary integrated technology infrastructure to enhance seed traits underlying crop productivity.  At Evogene, he worked in various roles such as executive vice president of corporate development and executive vice president of strategy and business development. From 2004 to 2006, Mr. Oron served as CEO of ChondroSite Ltd., a biotechnology company that develops engineered tissue products in the field of orthopedics. From 1999 to 2003, Mr. Oron was a senior project manager and strategic consultant at POC Ltd., a leading Israeli management consulting company. Mr. Oron holds an M.Sc. in Biology (bioinformatics) and a B.Sc. in Chemistry and Economics, both from Tel Aviv University.
Sigal Fattal – CFO
Before joining Biomx, Ms. Fattal served as an executive officer, CFO (May 2013 to January 2016), and vice president of finance (October 2012 to May 2013) of Evogene Ltd. Previously, Ms. Fattal was the CFO and executive vice president of Transpharma Medical Ltd. Prior to joining TransPharma, she was the director of finance (2001 to 2004) and the corporate controller (1998 to 2000) at ECtel Ltd. (Nasdaq: ECTX). Ms. Fattal has extensive experience working in the capital markets, including IPO, PIPE, and M&A transactions, as well as managing financial, operational, and business activities. Ms. Fattal holds a B.A. in Accounting and Economics with honors and an M.B.A., both from Tel Aviv University.
Prof. Rotem Sorek – Scientific founder
Prof. Sorek leads the Microbial Genomics group in the Department of Molecular Genetics at the Weizmann Institute of Science. He also develops techniques for high resolution understanding of microbial transcriptomics and metatranscriptomics. Prof. Sorek holds a Ph.D. in Human Genomics from Tel Aviv University, and in his postdoc, studied microbial metagenomics at the Lawrence Berkeley National Laboratory. Prior to joining the Weizmann Institute, Prof. Sorek headed the Genomics Research Group at Compugen (Nasdaq:CGEN). Prof. Sorek is also an author of numerous scientific publications in top-tier journals, and an inventor of more than 35 patents. He has received multiple awards, including the 2012 Rubinowitz-Grossman Prize in Microbiology, the 2013 Teva Founders Award for young scientists, and the 2014 FEBS Anniversary Prize. In 2015, Prof. Sorek was elected as a member of the European Academy of Microbiology.
Dr. Eran Elinav – Scientific founder
Dr. Elinav is a senior scientist leading a research group in the Immunology Department at the Weizmann Institute of Science. Dr. Elinav has over 110 published articles and received several awards for his work, including the 2013 Alon Prize and the 2015 Rappaport Prize for outstanding biomedical research. Before joining the Weizmann Institute, Dr. Elinav held an independent research position at the Institute for Gastroenterology and Liver Disease at the Tel Aviv Sourasky Medical Center. Dr. Elinav completed his M.D. at the Hebrew University of Jerusalem Hadassah Medical Center summa cum laude, followed by internship, residency, clinical, and research positions at the Tel Aviv Medical Center Gastroenterology Institute. Dr. Elinav also has a Ph.D. in immunology from the Weizmann Institute of Science and served in a postdoctoral fellowship at the Yale University School of Medicine.
Prof. Timothy K. Lu – Scientific founder
Prof. Lu is an associate professor leading the Synthetic Biology Group in the Department of Electrical Engineering and Computer Science and the Department of Biological Engineering at MIT. Prof. Lu graduated with an S.B. and M.Eng. from MIT, and an M.D./Ph.D. from the Harvard-MIT Health Sciences and Technology program. He is also a core member of the MIT Synthetic Biology Center and a co-founder of multiple biotechnology companies that develop innovative diagnostic and therapeutic technologies for human health. Prof. Lu is a recipient of the ACS Synthetic Biology Young Investigator Award, the Biochemical Engineering Journal Young Investigator Award, the NIH New Innovator Award, the Presidential Early Career Award for Scientists and Engineers, and the Ellison Medical Foundation New Scholar in Aging Award, among others.