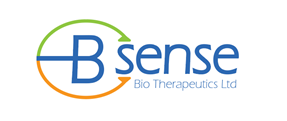 CSO: Dr. Haim Belinson
Bsense Bio Therapeutics is developing small molecules for the treatment of neuropathic pain. Bsense is pioneering a novel approach targeting multiple pain-related mechanisms using a single compound, to achieve greater efficacy and safety.
Bsense Bio's approach is based on the targeting of two cation channels, a ligand-gated and a voltage-gated potassium channel, respectively, TRPV1 and Kv7.2/3, which are co-localized on sensory nociceptive neurons and are widely recognized as prominent players in pain signaling. The company is financed by Takeda Ventures Inc., OrbiMed Israel Partners, and Johnson & Johnson Innovation (JJDC) and the Israel Innovation Authority (IIA), and was founded in September 2018 at the FutuRx biotech incubator.
 SCIENTIFIC APPROACH
Neuropathic pain is caused by hyper-excitability of the somatosensory nervous system, which is caused by trauma, or by diseases such as diabetes, herpes, or late-stage cancer. The heterogenous etiology, symptoms, and underlying mechanisms of neuropathic pain make the condition exceedingly challenging to manage. Recent research in neuropathic pain suggests that a systems-based approach involving multi-target drugs should be used to advance treatment and improve patient outcomes, suggesting moving away from single-target-drugs that have shown insufficient efficacy in the clinic. Bsense Bio has an innovative approach to target the voltage sensor domain (VSD) of two cation channels, TRPV1 and Kv7.2/3, which play a key role in pain signaling. Targeting the VSD provides greater selectivity than targeting the channel's pore, as this domain is located at the heart of the gating machinery which initiates channel opening or closing. While TRPV1 activation triggers pain, Kv7.2/3 activation inhibits pain. Thus, our product featuring a single molecule that activates Kv7.2/3 while inhibiting TRPV1 will generate an additive effect of pain alleviation, providing a multi-target therapy with an improved safety profile due to lower and less frequent dosing.
INDICATIONS
Neuropathic pain affects approximately 3-8% of the population worldwide and leads to a substantial economic and social burden. The global treatment market for neuropathic pain is estimated at $ 5.5 billion. The market is expected to grow at a rate of 3-5% in the coming years, mainly as a result of population growth, an increase in diabetic patients (and therefore in diabetic neuropathy), and the launching of several new drugs. However, the increased uses of generic medications are expected to moderate market growth. Patients with neuropathic pain require more analgesic treatment and suffer from lower quality of life, even compared to other chronic pain patients. Despite multiple available treatments, 40-50% of patients do not achieve satisfactory pain relief or suffer from severe side effects. Taken together, these highlight a significant unmet medical need for effective treatments of neuropathic pain and the very attractive commercial opportunity.
Dr. Haim Belinson, PhD – CSO
Dr. Haim Belinson holds a PhD in Neurobiology from Tel-Aviv University and  did his post-doctoral research at the Department of Pediatrics, Institute for Human Genetics, UCSF, San Francisco, CA. Haim has experience in the development of drugs for neurodegenerative diseases and pain from Teva Pharmaceutical Industries, where he dealt with both the scientific aspects as well as leading various stages of drug development. He has over 15 years of experience in Neurobiology research.
Prof. Bernard Attali – Inventor
Professor, Department of Physiology & Pharmacology, Sackler Faculty of Medicine, Tel Aviv University. Prof. Attali is the inventor of the technology and as such will serve as a consultant to the company. Prof. Attali published over 100 research papers in leading journals in his field. In addition, he was awarded several awards, including the Israel Cancer Research Fund and the Shtacher award from the Tel-Aviv University.
Dr. Asher Peretz: Co-Inventor
Department of Physiology & Pharmacology, Sackler Faculty of Medicine, Tel Aviv University. Dr. Asher Peretz holds a Ph.D from the Hebrew University of Jerusalem. He is a co-inventor of the technology and will share his comprehensive knowledge and experience in the field of electrophysiology of ion channels.